Home & Conservatory Air Conditioning Unit

Introducing the perfect solution
Once in a while a manufacturer comes up with a product so good that you wonder why nobody thought of it before.
When we saw the Xpelair Digitemp air conditioning units, we knew that we had to offer our customers these unique products - and our new distribution agreement enables us to offer these self contained air conditioning units at a very attractive price.
We believe that the Digitemp is perfect for use in conservatories and other domestic applications, as they have the following unique benefits:

No external condensers or pipework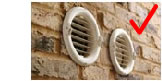 Most cheaper split type air conditioning units require an unsightly condenser box to be mounted on the outside wall, together with difficult to install pressurised interconnecting pipework between the condenser and the indoor unit. (for more information see FAQ's)
The Xpelair Digitemp is of a revolutionary self contained design that works without external condensers or pipework installation - thus avoiding specialist installation costs.
The two grilles which cover the external holes are the only evidence that air conditioning is fitted - of particular benefits where clients wish to preserve the visual integrity of their conservatory
Easy Installation


Because it has no external condenser the unit can be easily fitted by the average DIY'er. With no specialist installation skills required - the cost of air conditioning your conservatory is more affordable than ever.
Most of our clients either fit the units themselves, or get a handyman to fit them at low cost
Five easy steps is all it takes, as shown in our installation giude.
Cooling or Heating

The unit is available in either Cooling Only or Heat Pump versions which both heat and cool.
The Heat Pumps are a highly efficient method of heating, and only consume around 40% of the electricity required by a normal electric heater. Many clients find this to be of great benefit, as conservatories often suffer from inadquate heating.
Uses standard 13A electrical supply

The efficient design of the Xpelair Digitemp means that the unit can be connected to a standard 13A electrical supply - avoiding expensive rewiring costs.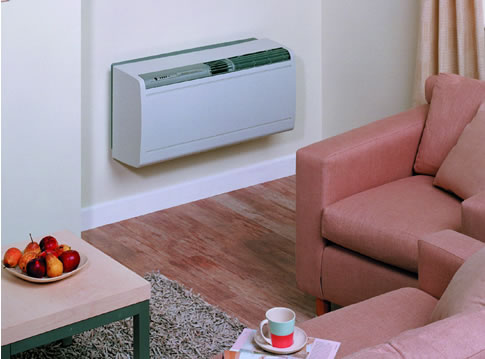 The Digitemp unit integrates perfectly into many domestic settings
The Xpelair Digitemp is a slimline unit (2.1kW or 2.45kW) with a low height of 400mm making it perfect for mounting against dwarf walls found in most conservatories. Unit dimensions are 400 high x 870mm wide x 280mm deep. Noise levels as low as 37dbA are a feature. High level wall mounting is also possible.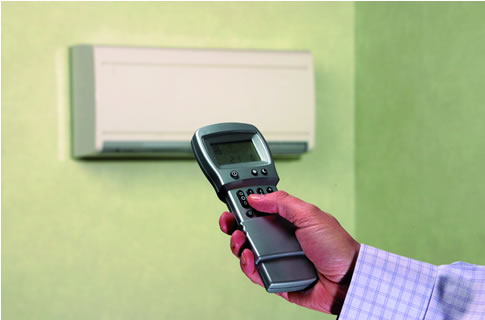 Standard infra red remote controller with unit shown in high level configuration
The unit is available in both heating and cooling models. The WA210 and WA245 models provide cooling only. Whereas the WHP210 and WHP245 provide the convenience of
heat pump operated heating and cooling in a single unit.
The heat pumps are a very efficient form of heating and only consume around 40% of the electricity required by a normal electric heater
All units come equipped with an infra red remote controller (shown above), external grilles and wall sleeves.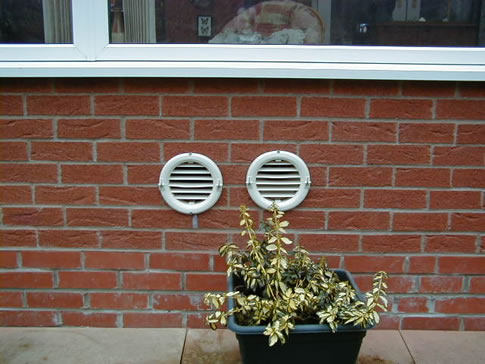 These two grilles are all that can be seen from outside
Fitting is easy, as all that is required is making a couple of holes in the wall, screwing the unit to the wall and connection to a 13A electrical supply - most of our clients either fit the units themselves, or get a handyman to fit them at low cost.



For further information please click on the link below to download the full colour Xpelair Digitemp Brochure pdf :

Xpelair Digitemp Brochure
Please click here for prices and telephone ordering
Please click here to buy online

Please select from the menu on the left for more information
or simply call us (Monday to Friday 9 to 5) - or email us anytime
for expert advice and written details.